Faculty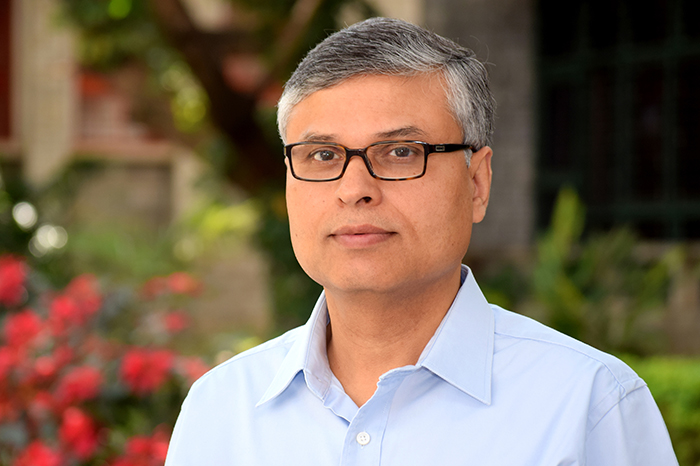 D

Krishna Sundar
Production & Operations Management
Research Areas
Operations Strategy
Enterprise Resource Planning
Supply Chain Management
Manufacturing Strategy
IT Strategy
E-Business Management
E-Governance 
Research
Journal Papers Published/ Accepted (in the last 2 years)
"Two substitutable perishable product disaster inventory systems", VSS Yadavalli , Diatha Krishna Sundar, Swaminathan Udayabaskaran, Accepted for publication in Annals of Operations Research, Springer, appeared online, (January 23, 2015).
"An age-dependent branching process model of a stochastic renewable resource and the problem of optimal harvesting", VSS Yadavalli, Diatha Krishna Sundar, Swaminthan Udayabaskaran, Indian Journal of Mathematics, Vol 57, No.1, (April 2015), pp 121-133
"An actor–critic algorithm for multi-agent learning in queue-based stochastic games" Diatha Krishna Sundar and K.Ravikumar, Neurocomputing, Elsevier, Vol. 127 (March 2014) pp.258–265
"A Mobile Solution for an Inclusive Public Distribution System in India" Diatha Krishna Sundar and Shashank Garg, Electronic Journal of E-Governance, Acad.Publishing, Volume 11, Issue 2 (December 2013), pp 210-228
"An application of the extended Technology Acceptance Model in understanding technology-enabled financial service adoption in South Africa", John P Wentzel, Krishna Sundar Diatha & VSS Yadavalli, Development Southern Africa, Taylor & Francis, Volume 30,(October 2013) Issue 4-05, 2013 pp.  659-673
"Influence of ERP systems on business process agility", Ravi Seethamraju and Diatha Krishna Sundar, IIMB Management Review, Elsevier,  (September 2013) Vol. 25, pp.137-149
"A comparison of financial service adoption propensity across three channels at the bottom of the pyramid in South Africa" John P Wentzel, V S Sarma Yadavalli, Diatha Krishna Sundar;   Management Dynamics,  Southern African Institute for Management Scientists,  Vol.22, No.1, (January 2013), pp.26-37
"Evaluating the impact of government policies and regulations on M-Commerce in India: A system dynamics modeling approach" Deepali Sharma, Diatha.Krishna Sundar, Rajluxmi V.Murty;  International Journal of Business Management, Canadian Center of Science and Education; Vol.7, No.23, 2012, pp.54-76
"A Periodic Tabular Policy for Scheduling of a Single Stage Production-Inventory System"   Shashank Garg, D.Krishna Sundar, K.Ravi Kumar;   Computers and Industrial Engineering, Elsevier, Vol.62, Issue 1, February 2012, pp. 21-28
Book(s)
"Public Health in India – Technology, Governance and Service Delivery" Ed. Diatha Krishna Sundar, Shashank Garg and Isha Garg, Routledge (Taylor & Francis Group), 2015;   ISBN:978-1-138-89839-4 (hbk), ISBN:978-1-315-68436-9 (ebk)
Book Chapter(s)
Diatha Krishna Sundar, Shashank Garg and Isha Garg "A mobile electronic data capture solution for application in Public Health" in "Public Health in India – Technology, Governance and Service Delivery" ed. Diatha Krishna Sundar et al., Routledge 2015, pp140-158;  
Krishna Sundar D and Shashank Garg, "The Role of Mobile Computing & Communication Technologies in Mobile Governance" in Handbook of Research on Enterprise Systems  Elliot Bendoly, Sanjay Kumar, Jose Esteves (Eds),  SAGE Publications (New York, London, Singapore and New Delhi), 2010
Krishna Sundar D, Isha Garg and Shashank Garg, "Rural Empowerment: An Integrated Disease Surveillance System Based on Mobile Technologies" in IT and Rural Health Care M D Tiwari and K N Agarwala (Eds), IIIT Allahabad Series on E-Government, 2009 pp.141-167
International Conference Papers (Presented & Appeared in the conference proceedings in the last 2 years)
"Study of sustainability measures in supply chain management: A grounded theory approach", Anirban Adhikary, Krishna Sundar Diatha, POMS 25th Annual Conference, Atlanta, May 2014, pp.111, ISBN-13: 978-0-692-02470-6
"Two substitutable perishable product disaster inventory systems", Sarma Yadavalli, Krishna Sundar Diatha, Udayabaskaran S, POMS 25th Annual Conference, Atlanta, May 2014, pp.77, ISBN-13: 978-0-692-02470-6
 "ERP systems and business process agility: A model", Ravi Seethamraju, Krishna Sundar Diatha, Vidyaranya Gargeya, , POMS 25th Annual Conference, Atlanta, May 2014, pp.168, ISBN-13: 978-0-692-02470-6
"Service process mapping and mobile workflow solutions in the monitoring of Tuberculosis treatment in regional India", Ravi Seethamraju, Diatha Krishna Sundar and Shashank Garg, NITIE-POMS International Conference,  December 2014 Proceedings, pp 326-337, ISBN:978-93-84869-01-4
"A framework for lean implementation", Saideep Rathnam and Diatha Krishna Sundar, NITIE-POMS International Conference,  December 2014 Proceedings, pp 72-82, ISBN:978-93-84869-01-4
"Mobile Enabled Operations Management using Multi-Objective based Logistics Planning for Perishable Products"   K.S Diatha1, R. Karumanchi and S. Garg, CIE42 Proceedings, 16-18 July 2012, Cape Town, South Africa, PP 218-1to 218-15
"A Mobile Decision Support System for Optimal Supplier Selection in an Agro Supply Chain" Shashank Garg, Krishna Sundar D, P&OM World Conference,  Amsterdam, 1-5 July 2012
"Supply chain management of perishable items: A case of Indian mushroom growers" D.Krishna Sundar, Suresh Bhagavathula, Rajluxmi V Murty, 23rd POMS 2012 Conference, Chicago , April 20-23, 2012. ISBN-10:0-615-61858-8; ISBN-13:978-0-615-61858-6
"Electronic Data Capture for a Longitudinal Study in Public Health - A Case study" Isha Garg, D.Krishna Sundar & Shashank Garg, 23rd POMS 2012 Conference, Chicago , April 20-23, 2012. ISBN-10:0-615-61858-8; ISBN-13:978-0-615-61858-6
"Optimal supplier selection and apriori penalty structure for delays in an agro supply chain" Shashank Garg & D.Krishna Sundar, , 23rd POMS 2012 Conference, Chicago , April 20-23, 2012. ISBN-10:0-615-61858-8; ISBN-13:978-0-615-61858-6
Working Papers (Published by IIMB)
Working Paper no.220: The Distribution Free Newsboy Problem with Partial Information; IIMB Working Paper Series
Working Paper no 210: Multi-Agent Learning in Dynamic Pricing Games of Service Markets, IIMB Working Paper Series
Working Paper no 193: Creating e-Chains to enable E-Governance through Embedded technologies, IIMB Working Paper Series
Working Paper no.178: Integrated Virtual Logistics Network for Quick Responses, IIMB Working Paper Series
Working Paper no.177:  Learning Algorithms for Price Control in an Internet-Based Dutch Auction, IIMB Working Paper Series 
Ph.D. Guidance
         3 students were awarded Ph.D degrees.
         5 students are working, at present, towards their doctoral degree.  
Sponsored Research (completed)
"Integrated Electronic Business Management Model for Quick Responses for Small and Medium Manufacturing Enterprises (SMEs )"
                           Sponsoring Agency: Ministry of Human Resources Development, Govt. of India
"Electronic Business Management (EBM): Consulting Business Opportunities with specific reference to Service Sector"
                           Sponsoring Agency: Winsoft Corporation, High Lands Ranch, CO-80126,USA
Ongoing Project
Service Availability mapping for improved Public Health Service Delivery in regional India, collaborative project with Dr.Ravi Seethamraju, University of Sydney,
                          Sponsoring Agency: Australia-India Council

Ongoing Research (technology development)   
 Developing on Open X-Data Platform,
Mobile Data Collection System for Disease Surveillance (MODISS)  Collaborators: Shashank Garg, Isha Garg, D.Krishna Sundar
Specification of GPS & GSM/GPRS based Tracking Platform along with flexi form design for field data collection: Collaborators: Balabrahmanandam, Shashank Garg,  D.Krishna Sundar
Organized 7th International Conference on E-Governance  at IIMB during April 22nd- 24th 2010. 
Role:   

Organizing Chair & Program Chair  

 

International Conference on E-Government (

www.iceg.net/2010

) ICEG- April 22-24:

 
 
Academic partners:

 

Center for International Health, University of Bergen, Norway; IIT Delhi,

        

 

St. Johns Research Institute (St. Johns Medical College & Hospital) Bangalore

 
 
Industry Sponsors:

Intel, Cisco, Robertson Technologies, DSK Technologies, NABARD, PercepEnz

 

(now Fortays) USA, Microsoft Research, HP India
He teaches masters and doctoral level courses in the areas of:
Electronic Business Management
Enterprise Resource Planning (ERP)
Logistics Management
Decision Modeling
Quantitative Methods
Supply Chain Management
Operations Management
Computer-based Materials Management
As part of executive education, he designs and conducts programmes of short and long duration for both private and public sector organizations.
Consultancy
Retainer Consultant to (an indicative list)
South African Postbank 
Nimbus India (Nimbus UK subsidiary)
Canara Bank (one of the largest public sector banks in India)
SAPO-South African Post Office
National Horticulture Board, Govt. of India
Ordnance Factories Board, Ministry of defense Production, Govt. of India
Merino Group of Industries, India
Orissa Mining Corporation
Bharat Logistics Pvt. Ltd., 
CMPFO, Ministry of Mines, Govt. of India 
Tanning Technology Corporation, Denver, CO, USA
Web Infotech Pvt Ltd., India
Professional Services Extended to Organizations (an indicative list)
Wipro Technologies
National Thermal Power Corporation (NTPC)
Reliance Industries Ltd., (RIL)
Siemens India Ltd.,
Steel Authority of India (SAIL)
National Academy of Defense Production (NADP) 
Center for Good Governance (CGG)
Coal Mines Provident Fund Organization (CMPFO)
Aditya Birla-Nuao Group
Customized  Programmes designed & offered to Corporate entities like  (an indicative list) 
Siemens India
ADP
OFB
Reliance Industries
NIRD
NWSDB-Sri Lanka
CMPFO
SAIL
External
Committee Membership(s)
Member – Advisory Committee on e-Government to Karnataka state Government since 2004
Member – Advisory Committee of Microsoft-NISG e-Governance Innovation Center since 2006
Member - Advisory Committee on PSUs to SAP India, since 2006
Member – Advisory Committee for ICT implementation in Engineering Industrial Clusters, CMTI, since 2005
SAP-ACE Awards Jury Member 2007
University Faculty membership
         Temporary faculty member of the University of North Texas faculty,  2005-2009
Examinership
Ph.D thesis Examiner to IIT Delhi, NITIE Mumbai, University of Cape Town, University of Kwazulu-Natal,  IIT Kgp, Univ. of Cochin, Anna University, BITS-Pilani, NIT Calicut 
On the panel of External Experts of University of Pretoria, SA
Internal
Academic Administration
| | |
| --- | --- |
| At present:    | Chairperson ERP Centre   |
|   | Member- Digital Learning Committee |
|   |   |
| In the past:     | Chairperson-POM Area; |
|   | Chairperson – CFC (Computer Facilities Committee) |
|   | Chairman – Institute ERP Project Committee |
|   | Member CPP (Center for Public Policy) – IT Committee |
|   | Member – NSRCEL Academic Council |
|   | Member Student Exchange Programme |
|   | Member Institute BPR Committee |
|   | Member-Institute Pension Committee |
PhD, IIT Kharagpur, India
MTech, National Institute of Technology, Calicut, India
BE, Andhra University, India