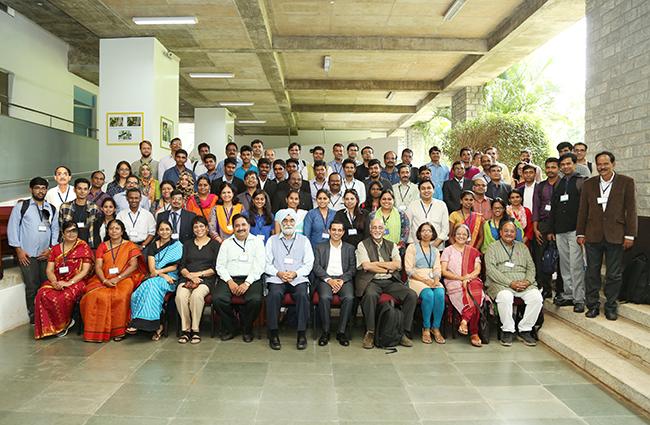 The Eleventh Annual International Conference on Public Policy and Management was hosted by the Centre for Public Policy (CPP) at the Indian Institute of Management Bangalore from August 8-10, 2016. This year's theme was 'Inclusion and Exclusion: Policy and Practice'. The event brought together policy makers, academics, consultants, members of NGOs and subject experts from different disciplines to discuss various policy issues.
The event kick-started with two pre-conference events touching on the quantitative and policy nature of the conference. Over August 6th and 7th, CPP organised the 4th Public Policy Hackathon. The Policy Hackathon is a team event that seeks to develop evidence-based suggestions on how public policy can address challenges facing society. In this event, each team is given 24 hours to use a dataset to develop evidence towards what policy alternative may help address a key policy question of their choice.
In the second pre-conference event on August 7th CPP organized a panel discussion around former RBI Governor D. Subbarao's book 'Who moved my interest rate?' The session was moderated by Professor Rupa Chanda, Indian Institute of Management, Bangalore and was set-up as a conversation between then Union Home Minister and then RBI Governor D. Subbarao on how they engaged with a wide range of issues: global financial crisis, central banking and various other issues. To watch the video of the session, click here
The three-day international conference was inaugurated on August 8, 2016 by Dr. Pratap Bhanu Mehta, President, Centre for Policy Research, New Delhi. Dr Mehta shared his thoughts on a variety of contemporary issues that the nation is facing related to the politics of inclusion and exclusion.
The Conference on Inclusion and Exclusion saw almost 200 papers being submitted and we were able to accommodate approximately 90 odd papers during the two and a half day conference. A number of very interesting themes were explored and the conference schedule provides details of all presented papers. For more details, click here

A number of special sessions were organized that gave a snapshot of emerging research in a wide range of public policy arenas. Some of these are:
Agrarian and Rural Change in India, chaired by Asmita Kabra
Crony Capitalism and Governance Institutions in India, chaired by Gita Sen and organized by Chiranjib Sen.
Exclusion from Urban Natural Resources: Interrogating the role of Urban Planning, chaired by Harini Nagendra and organized by Seema Mundoli,
Fiscal Responsibility and Budget Management, chaired by Praveen Tiwari, and organized by Charan Singh
Examining the Process and Impact of Mahila Samakhya on Women Empowerment, chaired by Jyothsna Jha and organized by Nivedita Menon
 The Informal City was chaired by Navdeep Mathur and organized by Kiran Keswani
The event ended with a valedictory ceremony on August 10, 2016 in which the Public Policy Hackathon winners were announced. The awards jury comprising Shri N. Sivasailam, Department of Telecom, Government of India; Sridhar Pabbisetty, Namma Bengaluru Foundation; Dr Hema Swaminathan, Indian Institute of Management, Bangalore and Dr Arnab Mukherji, Indian Institute of Management, Bangalore awarded the first prize was given to Team ASR [Alokik Mishra, Rajit Dasgupta, Sakshi Mohan] for their innovative work on the returns to medium of instruction, the first runner-up prize was given to Team Utopia [Naveen Bharati and Andaleeb Rahman] for their work on class and caste mobility, the second runner-up prize of was given to Team Dirk [Jothsna Rajan and Sunik K] for their works shows how ownership of television impacts a household's awareness of diseases such as HIV or diarrhoea.  Finally, Team Policy Nuts [Madhavi Bansal, Aradhana Sanil, Aditi Upadhyay, and Khyati Menezes] received a Special Mention award from Jury for trying to understand the relationship between women's ownership of economic assets and how this ownership relates to changes in who makes decisions at home.