Practice in Public Spaces is a talk series recently launched by CPP. The series is a dialogue between practitioners and discussants on areas relating to public policy and management. The dialogue draws on the experiences and real-life cases handled by practitioners on significant projects that have impacted the city and country. The talk series, which is open to the general public, provides an opportunity to understand the complexities involved in implementing policies in India. The talks that have been conducted this year are:
A talk by noted journalist Paranjoy Guha Thakurta titled "Political Economy of Hydrocarbon Governance: Cases of Crony Capitalism" on 28th November 2012.
A talk of Practice in Public Spaces Series by Shri N Sivasailam, MD, titled "Bangalore Metro & Challenges" held on 30th Jan 2013.
A talk in the Practice in Public Spaces series by Shri S V Ranganath, Chief Secretary, and Government of Karnataka on "Good Governance in a Context of Competing Political Priorities" held on 27th February 2013.
A talk on "Environmental concerns, urban planning for transport and smart transportation" by Prof. Edward Jobson, Environmental Director, Volvo Bus Corporation on 27th Oct 2014 at 3pm – 4.15pm.
A talk on "Indo-US Engagement in the Coming Decade" by Richard M. Rossow Senior Fellow and Wadhwani Chair at the Center for Strategic and International Studies, on 4th December 2014 at 4pm to 5.15 pm at C-23 classroom.
Public Policy Seminar Series on Third OECD Economic Survey of India on February 16, 2015 at MDC Conference Hall. Speakers: Catherine L Mann, Isabella Joumard and Piritta Sorsa.
Talk on Skills, Education and Growth in India and China by Mr. Shang-Jin Wei on 15th December 2015.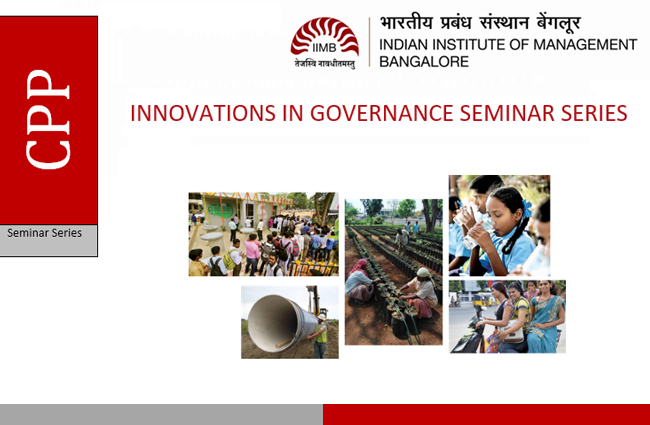 2017 - 2018
| | | |
| --- | --- | --- |
| S.NO | EVENTS | DATE |
| 1 | Visitors -  Dr. Carlos Pena, Vice Rector, University of Santa Maria, Caracas(Venezuela) | February 16, 2018 |
| 2 | A talk By Prof. Pradip Khandwalla, titled ""FAST FORWARD TOWARDS CIVILIZATIONAL GREATNESS: AGENDA FOR INDIA" | 28th February 2018 |
| 3 | Panel Discussion on "Post Budget Insights" | 10th February 2018 |
| 4 | Meeting on sewage treatment regulation and manual scavenging | 27th January,  2018 |
| 5 | Karnataka Innovation Seminar Series , 12 seminars held jointly with DPPMS, GoK |  23rd December, 2017 – 17th January, 2018 |
| 6 | XII Annual International conference on Public Policy and Management The theme is Inclusion and Exclusion: Policy and Practice | 7th – 9th August 2017 |
| 7 | "Analyzing Intergenerational Mobility: Measures, Curves and Welfare" by Prof. James Foster | July 11, 2017 |
| 8 | Visitors -  delegation of nine Australian Labor Party representatives and advisors | 30th June , 2017 |
| 9 | Panel Discussion on "Post Budget Insights" | 19th February 2017 |
| 10 | Conclave on "Affordable Healthcare" | 18th February 2017 |
| 11 | Training programme for the students of Faculty of Oriental Studies of the Vietnam National University, Hanoi, "The India Experience 2017" | January 12 – 22, 2017 |
Earlier Events