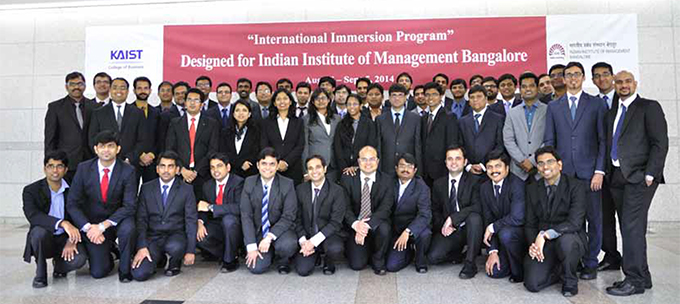 IIMB provides placement assistance to all EPGP students. The Career Development Services office (CDS) works closely with the EPGP Student Placement Committee on the campus recruitment process which consists of the following stages:
Inviting companies
CDS and the student committee invite companies to participate in the placement process. Companies can also reach out to CDS and express an interest in recruitment. The companies are then scheduled for a pre-placement talk.
Pre-placement talks
The pre-placement talk (PPT) is a platform for the company and the students to interact. Company representatives share the firm's profile, key business aspects, work environment, and opportunities available to the students. The presentation is followed by a Q&A session where students get a better understanding of the company and potential roles. A typical pre-placement session is scheduled for 90 minutes between 4pm and 6pm on weekdays, and between 8am and 8pm on Saturdays and Sundays.
Application
Interested students apply to the company by submitting a detailed resume on the online CDS portal.
Placement Interviews
The final placement process is conducted over an extended period of time beginning in the first week of November. This gives the companies ample time for any customized selection process that may be required. The final placement interview gives the company and the student an opportunity to discuss the role in detail and make the right choice.
Offers and Acceptance
The company can make an offer to the student after the final interview. The offer should include details of role, location, remuneration, and other relevant terms and conditions that the candidate needs to make a decision. The company communicates the offer to the student through the CDS office. The acceptance of an offer is governed by EPGP's placement rules which are framed at the beginning of the academic year and may vary from year to year. 
Career Development Services
Prior to the placement interviews, students have access to various career support activities which help them improve their skills as well as make better career decisions. Some of the career support activities available to students are:
- Resume workshop
- Interview skills workshop
- Career mapping and counseling sessions
Contact Us
Robin Lewis
Email: robin.lewis[at]iimb[dot]ac[dot]in
Phone: +91- 8788380424
CDS Office: 
Email : cds.epgp@iimb.ac.in
Phone : +91-80-26993655
EPGP Placement Committee:
Email : epgpplace@iimb.ac.in
Manager – Marketing
CDS - Ganapathy Sharma
Email: ganapathy.sharma@iimb.ac.in
Phone: 9900211624